More than 200 academic leaders attended Magna's Leadership in Higher Education Conference in Baltimore, Md., for a two-and-half-day exploration of and best practices that define effective leadership in higher education. Here is a recap of the presentations given by the event's three distinguished plenary speakers.
The value of the liberal arts education
On the opening night, Gregory Crawford, president of Miami University, gave a compelling presentation on the value of a liberal education. Crawford traced the history of the course of study: from the trivium of ancient Greece and Rome, through the schools of the early renaissance in Bologna, Paris, Naples, and Oxford. Crawford defined the contemporary conception of the liberal arts as, "The holistic body of education that equips a person with the intellect and character to continue learning throughout their life, to participate fully in society, and to achieve their personal aspirations to elevate both the individual and the human community."
During the presentation, Crawford outlined the challenges facing the liberal arts: the rising cost of education, the perceived value of the liberal arts, job placement outcomes for students, and the challenges of economic development. To address these challenges, Crawford outlined the benefits, or "three pillars" of a liberal education: character and virtue; critical thinking; and lifelong learning. Crawford stressed the importance of building connections that might not otherwise be made, making the skills provided by a liberal education, "indispensable for discovery and complex problem solving, and how you connect between disciplines."
Crawford offered the crowd a visual aid to illustrate how technology and innovation change the world.
"A lot of things change in 70 years," Crawford commented. "I think it is now time again for the liberal arts. We really have to keep pushing forward because the rate of change and the accelerated pace of what's going on in the world is just so important."
Optimistic pessimism
On Friday, Jeffery Buller of Florida Atlantic University and ATLAS Leadership Training began his talk "Reasons to be Optimistic about Pessimism and Pessimistic about Optimism" by asserting that the best approach to academic leadership is to be optimistic 80-90 percent of the time, and "a little bit more skeptical, a little bit more cynical . . . and perhaps even a bit pessimistic" 10-20 percent of the time.
Buller went on to give a primer on leadership structures. First, describing the way that we learn about leadership outside of high education: the hierarchical organization, "that is to say, a social pyramid and in a social pyramid, power rises as you go up the social pyramid, and numbers of people increase as you go down the social pyramid." A historian by training, Buller compared this sort of organizational scheme to a Sumerian city-state. "You also see this in corporations," Buller said.
Buller explained that people in authoritative roles in this sort of hierarchical structure must convey an image of seriousness, citing examples of Angela Merkel and Winston Churchill. But this school of leadership doesn't translate well in higher education. In academia, Buller explained, the Churchill school of leadership becomes the George Costanza school of leadership, citing the following clip from Seinfeld as an example:
https://www.youtube.com/watch?v=wC8PzhNuh7w
"So, the idea is, if you look annoyed, people assume you're busy . . . it's what I tend to call negative academic leadership."
Buller then illustrated the difference between the top-down structure of hierarchical organizations with that of colleges and universities: "a lot of the work that actually gets done at a college or university seems to be like a salmon swimming upstream, according to the way in which we'd expect power to flow." The power the faculty has, Buller said, is the power over curricula, "when it comes to curricular matters, we're operating more as a distributed organization rather than as a true hierarchy." The most effective way to lead within this sort of structure is to, "empower people by being accessible, being approachable, by creating an environment in which they can succeed."
Buller then went on to explain the ways that optimism and pessimism can manifest various outcomes depending on the situation. Although optimism is important, it is also important to understand the role of pessimism. To illustrate this, Buller quoted George Bernard Shaw: "both optimists and pessimists contribute to society. The optimist invents the airplane, the pessimist the parachute." Bearing this in mind, Buller suggested we practice "intentional selective optimism" and "intentional selective pessimism." In other words, "realism."
Looking to the future
One of the most important roles a university president plays is positioning the institution to be successful, "not just the next two or three years, but 20 or 30 years going in the future," said Michael Lovell, president of Marquette University, at the opening of his Saturday plenary. "I want you to walk away today from my talk realizing that we have no choice but to change, and we need to change significantly."
Lovell focused on the skills gap between the graduates universities are producing and the needs of companies looking for talent. "Is college worth it?" Lovell asked. "Goldman and Sachs says, maybe not so much. In Fortune, Americans are divided on whether college degrees are worth it. Almost 50 percent of Americans believe that college may not be worth it anymore."
Next, Lovell gave an outline of the evolution of the American educational system over the last two centuries, and cited Moore's Law, the idea that technology progresses exponentially, as evidence that the rapidly changing technological landscape will require rapid changes in education.  "So if you think the change has been fast up to this point," Lovell warned, "look at how much faster it is going to be changing as we go forward." He illustrated his point with an experience he had visiting an alum who runs the bonds division of a major Wall Street company:
"Four years ago . . . I would look out of his office window, and there was almost a football field worth of millennials that were trading on the floor . . . there were literally hundreds of them. I visited him last year, and they're all gone, because stock trading is being done with artificial intelligence computers. The stock reports are now being written by computers rather than stock analysts, because they are more accurate, and they're better predictors."
With the changing landscape of the job market, the skills graduates will need to remain competitive will need to change. To meet those needs, Lovell offered the skills that students will need: they will need to be innovative, entrepreneurial,and creative, and they will need to be able to communicate, work in teams, and solve problems critically.
Lovell then turned to an example of how education closed the skills gap between students and corporations, highlighting The Commons, a collaborative project between "24 different universities and technical schools, which represents 185,000 students," in the Milwaukee area. Through this project, students were able to make connections with professionals that would later help them with their careers.
Lovell concluded his presentation by looking to the future, with a project at Marquette called "Innovation Alley," a cross-disciplinary learning and maker space that will bridge the engineering hall with a new building for the College of Business Administration.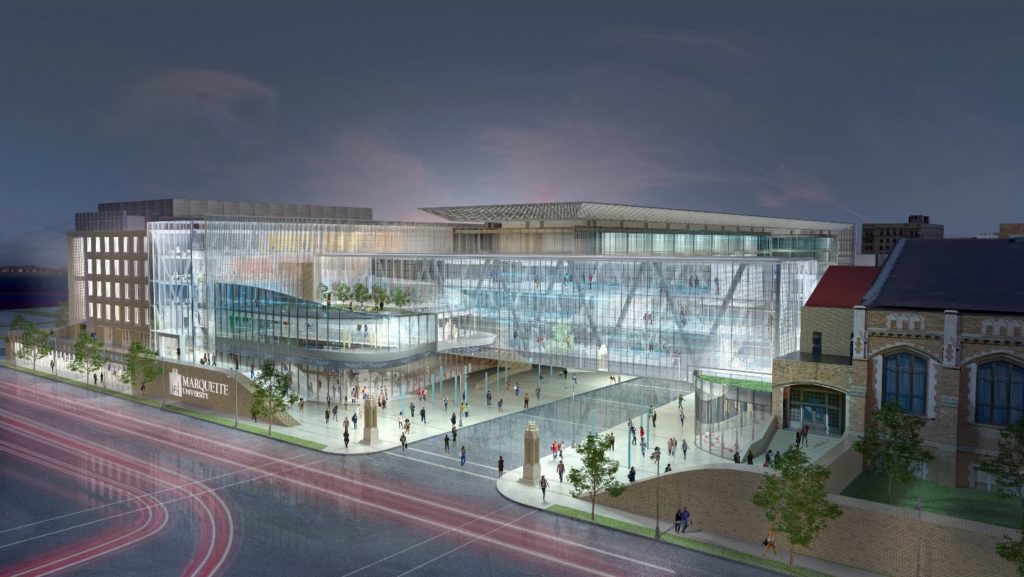 Speaking of the future . . .
The 2017 Leadership in Higher Education Conference was a great success, and we're confident next year will be even better. We hope to see you in 2018 at the Leadership in Higher Education Conference in Minneapolis, Minn., October 18-20.
Related posts