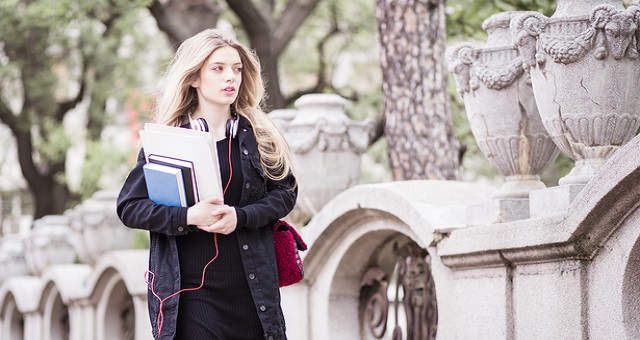 In April 2014, the Task Force to Protect Students from Sexual Assault released a report that identified that one out of five women is sexually-assaulted during college, and pledged far-reaching awareness and enforcement efforts, including a website, NotAlone.gov, that provides phone numbers and resources for students to report crimes.
While admirable in intent, some students and universities are taking measures to provide more immediate help and improve safety into their own hands—or, more precisely, into their phones.
At the University of Michigan five students designed a promising app that accompanies students walking home alone. That app went from a concept to Apple's App Store in just three months.
The concept is simple enough: When leaving the library or a party, a student texts friends to let them know she is walking home alone. Those friends virtually walk home with the student, as a GPS system follows the student's path along an online map.
The webpage for the so-called "Companion app" reads like a basic business plan, outlining the problem about sexual assault, surveying the current market, and explaining why their product remedies those shortcomings.
"Have you ever walked home alone late at night?," their blog reads. "Keys between your knuckles, nervously looking over your shoulder, hoping you make it home safely? You probably were wishing someone was there with you, but chances are you were riding solo that night. You are not the only one who has been in this situation and felt this fear.
We built Companion to solve this exact problem. Companion is a personal safety network that allows you to reach out to friends or family and let them keep an eye on you. Wherever you go, Companion has your back."
The students go on to explain that there are several apps that "check in" while a student is walking alone, but most of those rely on a student providing an estimated travel time and then sounding an alarm if the student does not arrive by that time.
The Companion app, explain the University of Michigan students, provides more immediate safety. "If the user strays off their path, falls, is pushed, starts running, or has their headphones yanked out of their phone, the app detects these changes in movement and asks the user if they're OK. If the user is fine, they press a button on the app to confirm within 15 seconds. If they do not press the button, or a real emergency is occurring, the Companion app transforms the user's phone into a personal alarm system that projects loud noises to scare criminals from the scene, and gives the option to instantly call the police."
As reported by the Business Insider, the app, which debuted in January 2015 in Apple's App Store, already has thousands of users.
More widely used, though, is the RAVE Guardian. Unlike the Companion app, RAVE Guardian is a service provided directly by colleges. Many colleges, like Tulane and Texas State, provide direct links to download the RAVE Guardian—and, by doing so, an implicit endorsement. It is available at more than 100 colleges and, according to the Daily Tar Heel, the school newspaper at University of North Carolina – Chapel Hill, where the app was introduced in September 2014, UNC pays an annual $40,000 licensing fee plus an annual $10,000 for the company's Smart911 program.
Reprinted from "Can Technology Improve Students' Safety?" Campus Law Considered, September 21, 2015. © Magna Publications. All rights reserved.
Related posts